RGV: NCB has turned Aryan into a bigger star
Ram Gopal Varma joins the bandwagon of celebrities who have reacted to Shah Rukh Khan's son Aryan Khan's arrest in the alleged cruise drug bust case.
Taking to his Twitter handle, RGV shared a series of tweets, talking about the ongoing drug case involving Aryan Khan.

Also See: Shah Rukh Khan's son Aryan Khan drug case Live Updates
In his post, RGV claimed that fans, media houses and even NCB has turned Aryan Khan into a bigger star than his father Shah Rukh. The filmmaker also added that the anti-drug agency has given the star kid a launch, even before his actor father.
Check out the tweets here: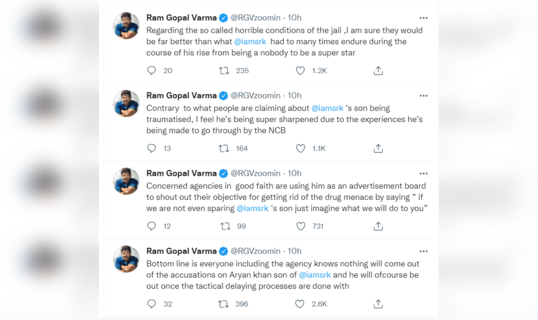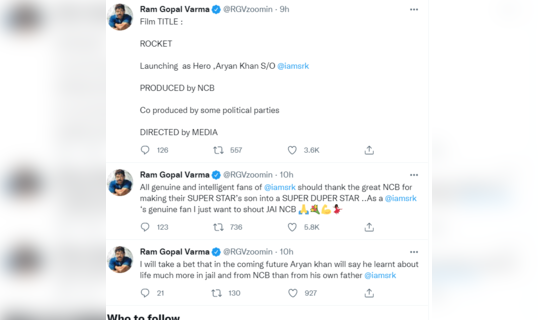 Aryan Khan was arrested earlier this month at an alleged rave party on a Goa-bound cruise by the Narcotics Control Bureau (NCB) along with Arbaaz Merchant, Munmun Dhamecha and others. The young Khan's bail plea was heard in a Sessions court on October 13. During the hearing today in the special NDPS court, the lawyer representing Aryan Khan argued that the star kid was not involved in any sale or purchase of any illegal substances.

On the other hand, the Narcotics Control Bureau in its reply filed in a special court on Wednesday said that its investigation has revealed Aryan Khan's role in illicit procurement and distribution of contraband.

The special court will be continuing to hear ASG oppose the bail plea today.

Source