Nitesh shares his fond memories with SSR
Filmmaker Nitesh Tiwari, who worked with Sushant Singh Rajput in 'Chhichhore' got emotional recently while re-watching his 2019 film. Scenes of SSR portraying a range of emotions in the coming-of-age drama made his director's eyes go all numb. In an exclusive conversation with ETimes, the National Award winning director of movies like 'Dangal' recalls his fondest memories with SSR as he praises his intellect, intelligence and commitment to cinema. Excerpts from Tiwari's first-person account:
"He was full of questions"
Before we met during the narration of 'Chhichhore', I had only met Sushant socially. During the narrations though, he asked a lot of relevant questions about the screenplay. At the time, he came across as a thinker who wanted to understand what his character was and his questions were pretty bang on in an effort to understand the journey of the character. His curiosity wasn't just limited to his character, he asked a lot of questions about other characters, too, which is a hallmark of a good actor. Because he is not just interested in his role but is in the overall story per se, which is a quality of Sushant that stood out for me.

You know the charm that he carried, the child-like curiosity, which he had and of course there is no question about the enthusiasm which he showed about everything, to me those things stayed with me.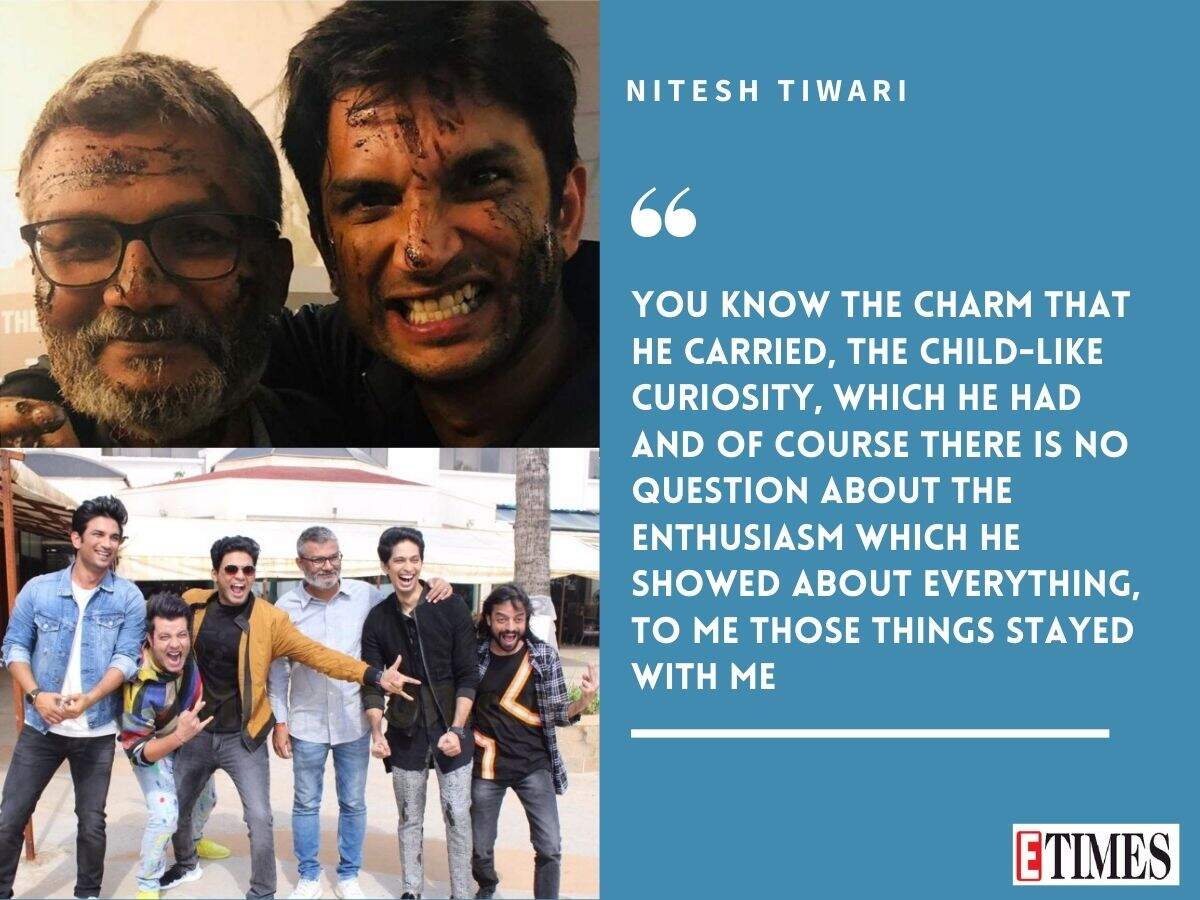 Once he came on board it was a very interesting journey with him because he was full of questions. He would message me, call me and also drop in to meet me and spend a lot of time discussing the character.

"He made me take a personality test, twice"
There was something very interesting he made me do for the prep of 'Chhichhore'. It was a personality test for both old Ani and younger Ani for which one had to answer a long set of questions to arrive at the personality of the character. He made me take the test twice; one for Older Ani and the other one for the younger Ani.
I told him, 'Arrey bhai do ghanta test doonga usse achcha main bata deta hoon'. But he said, 'Nahi sir. For my happiness, do this test, which I would like to prepare for my character. Because these are the questions you will answer for both of them so it will help me prepare for both of them separately'. I give respect to all my actors. If that was something that was going to make him comfortable and help him get into the skin of both the characters, I had to do it. I sat and did the test twice and later he came up with the deduction for the two Anis. I told him, 'Woh toh maine tereko pehle hi bola tha', to which he replied, 'Mereko samajhne ke liye yeh zaroori tha' and he said, 'This is my process'. I agreed and said I am all for your process but I could've told you all this earlier, but he said, 'Sir! Abb sab clear hai'. (smiles) He was like that only.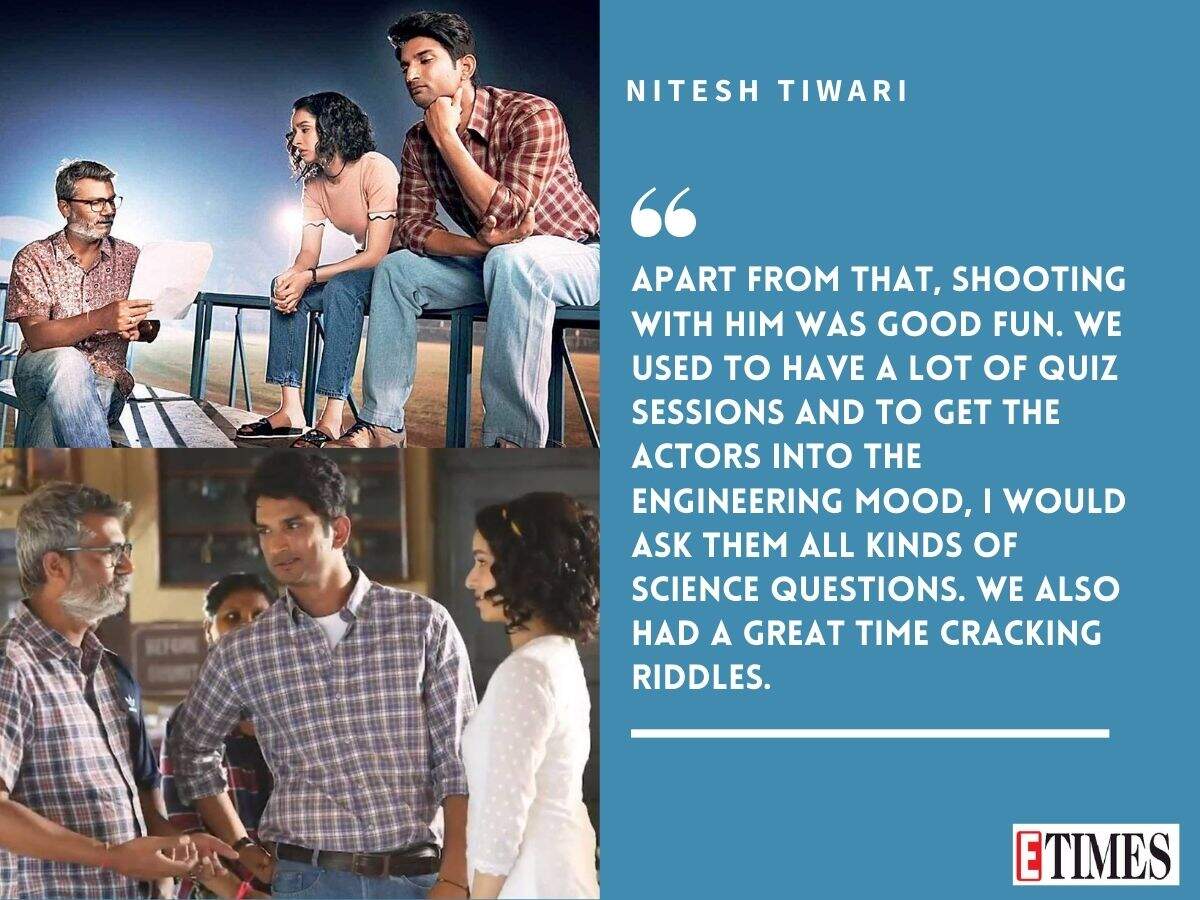 "The kind of dedication he showed was amazing"
There was a lot of course training required for 'Chhichhore' and the kind of dedication he showed was amazing. He was well-versed with cricket and football so didn't need much training but he spent a lot of time understanding how basketball is played. Learning Basketball was very challenging for him and he worked under coaches, worked on his posture, his style and he put in the hours, which were required. Never once did we hear from him that, 'I will not turn up for practice today' or 'Can we do it some other time'. There were no excuses.
He was always there, in fact, when we were shooting for the Basketball game, we had the location for only five days and on the third day both Sushant and Prateik (Babbar) sprained their ankles. As you know, Basketball is a strenuous game and because we didn't have time or another date for the location, it would've been very difficult to manage. He didn't cancel the shoot. Both Prateik and Sushant would give the shot and come back, put their feet in the ice bucket and by the time we set up the second shot they would be recuperating and ready for the next. They were going through so much pain but not once did they tell me let's do it some other time. Because both of them realised that any delay would really set us back by a lot of time. That was the kind of commitment that they showed. Another thing that remains with me about Sushant is that he always came well prepared for his scenes, whether it was one dialogue or a monologue. He made everybody around him comfortable; even his co-actors. He made it a point to mingle with them and befriended them too. So, everybody around him was very comfortable.
"I thrive with such actors who ask questions and value add"
Another thing I need to tell here is he never used glycerine in emotional scenes. I would ask him, 'How are you managing to get tears?' and he would say, 'Yeh mera secret hai sir'. He did not tell me his secret but he came prepared and he had so many crying scenes with both the younger and older Ani and not even once in those shots did he use glycerine.
He was a method actor, who would internalise something to get into that mood and perform. He would just get tears in his eyes and to me that was quite a revelation.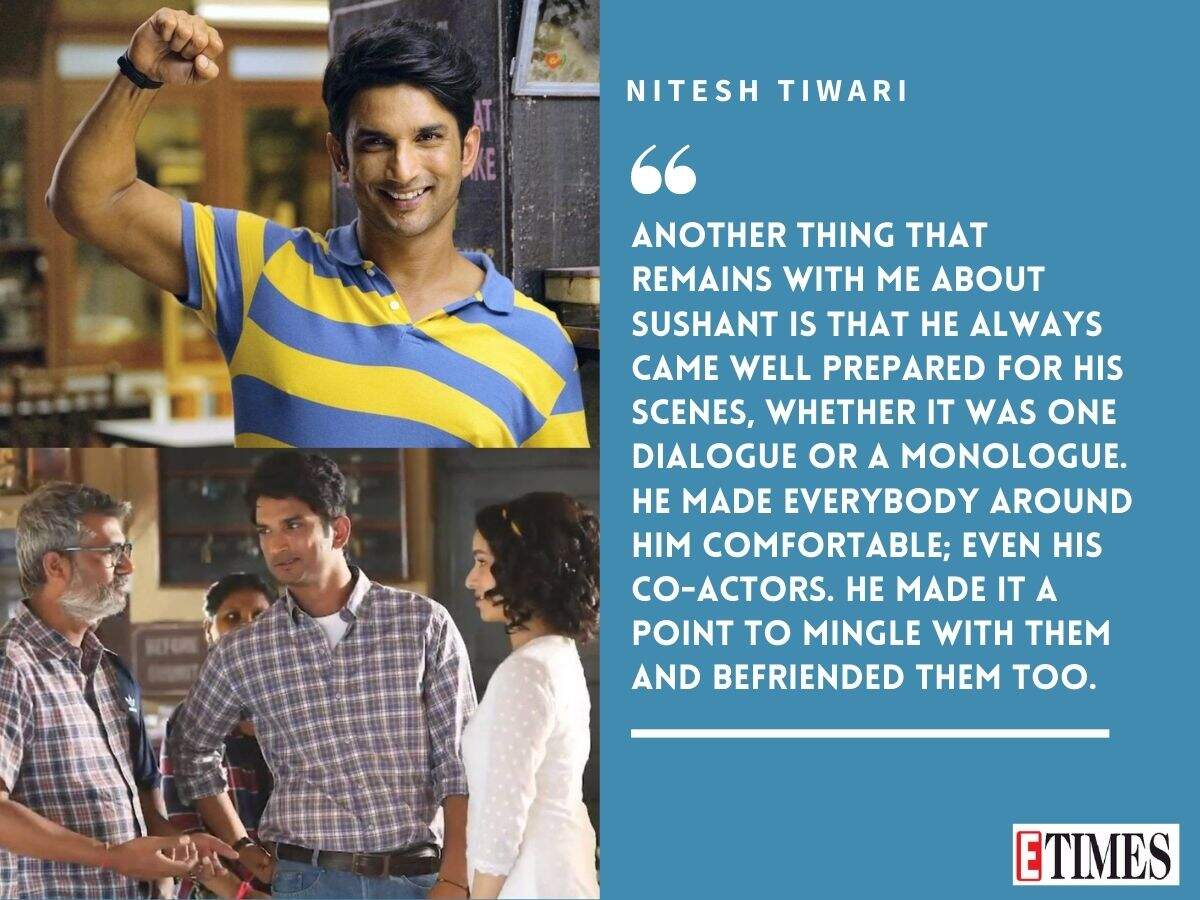 Apart from that, shooting with him was good fun. We used to have a lot of quiz sessions and to get the actors into the engineering mood, I would ask them all kinds of science questions. We also had a great time cracking riddles. I would start first and then the others would join but Sushant's questions would be too technical for the others to understand. I would tell him to make them easier and to avoid too much science. I guess he got pleasure in seeing others struggle for the answers.

His process of working was good and I thrive with such actors who ask questions and value add. I don't want actors to follow me blindly. I want them to have a point of view. I would love to have thinking actors working with me. It shows that your artiste is taking interest in your project, he is asking intelligent and relevant questions. And it shows he is going out of his way to prepare for the role. What more can a director ask for?

I remember another episode on sets when we were shooting a scene where Ani and Maya are having an argument and his son is brought out of the operation theatre. He couldn't continue with the scene because he had internalised it so much that he lost all his energy. On that day, we had to reschedule the remaining portions for the next day. You have to understand your artiste's condition. He had given a super shot and if he needed rest, he needed rest.


"I have a lot of fond memories of him"

I was in touch with Sushant even after the film was complete and he had promised to show my daughter some VR (virtual reality) stuff and he'd promised to show my son the moon on his telescope, unfortunately that didn't happen.

I have a lot of fond memories of him and that is how I would like to remember Sushant. He was a fantastic artiste, full of energy and dedication and that is going to remain with me for the rest of my life. He has given me a fantastic film. I was watching 'Chhichhore' the other day and I really got emotional remembering the fun we had while making it.

Source