Neetu Kapoor: I would like to say it out loud, but…
Neetu Kapoor bid adieu to a promising film career following her marriage with Rishi Kapoor at the age of 21. The actress, who returned to the big screen with 'Love Aaj Kal' in 2009, finds herself in the spotlight again – this time, for her television debut with 'Dance Deewane Juniors' and most importantly, her son, Ranbir Kapoor's marriage to Alia Bhatt next week. Expressing excitement in an interview with Bombay Times, she adds that she hopes to share with her bahu the same outstanding relationship that she shared with her saas, Krishna Raj Kapoor. Excerpts…
You started at a very young age as a child artiste. Do you relate to the kids and their journey when you judge them on the show?
Kids are my weakness. I love them. They all dance so beautifully, I get confused while deciding who performed better. The experts in dance are Marzi Pestonji and Nora Fatehi and I enjoy learning from them. We weren't perfect, but we learnt from our mistakes. Even the public would give us second chances ki yeh film nahi chali toh doosri chalegi. Today, they are trained and perfect. So, you can't tell who is good and who is bad. Of course, we encourage them. But otherwise, all of them are outstanding and are doing something new. I am learning from them, and it is amazing.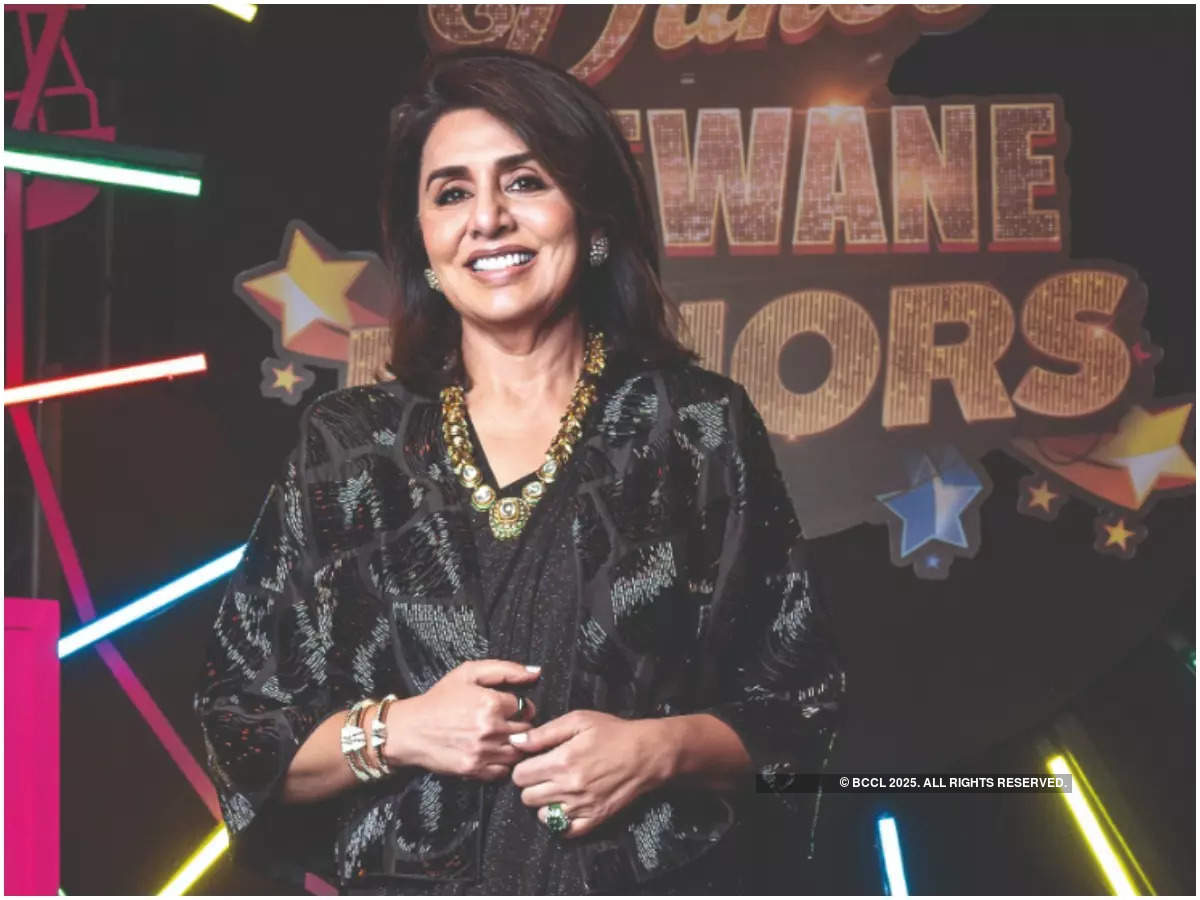 One expected to see more of you in films following your return to the big screen with 'Love Aaj Kal' and 'Do Dooni Chaar' (2010), but you choose to do just a select few. Have you had a change of heart recently as you've taken on more projects?

I had no inclination to return to acting, but the makers of 'Do Dooni Chaar' needed me. So, Rishiji requested me to become a part of the film, which I turned down initially. However, he suggested that I hear the script before I made up my mind. I loved the story, agreed to be a part of it and the film was appreciated by people. I did 'Besharam' because mera ek laalach tha kyunki usme Ranbir aur mere husband dono the. Unfortunately, the film didn't work at the box office. I wasn't keen on returning to working, as I was busy. Rishiji would keep me so busy that I didn't get time for anything else. However, after my husband passed away, my children (Ranbir and Riddhima) told me to work as they didn't want me to sit around at home. That's how I was pushed to do 'Jug Jugg Jeeyo' and a couple of other shows. I started enjoying the process. I started building my confidence which was zero, when I started shooting for Jug Jugg Jeeyo. My kids encouraged me to do something. I have also become quite social. I would hardly invite people home or go out. My husband's friends were my friends. I rarely went out for lunches and dinners. But now, I am socialising all the time, because this is what I want to do now. Life gets too sad and I don't want to be sad. I want to be happy.
You left films at the age 21, when you were at the peak of your career. Now that you are back, how do you look back at this on-and-off relationship with films?

I started working in films at the age of five. I had enough of it by the time I turned 21. I had no life as a child or a teenager. I didn't have any friends. I would work three shifts in a day and did 80 films in seven years as a heroine. I earned a lot of fame at the age of eight with 'Do Kaliyaan' (1968). Fame bhi mil gaya, sab kuchh mil gaya, so I just desired to have peace of mind then. Back then, acting was like a job for me. I never desired to become an actor. I had to do it for my family. Now, I want to be busy and happy. The only thing I know is to be in movies and that's what I am doing. More than it being a tool to divert my mind, I am enjoying the process. I derive happiness from it. I enjoy getting ready, meeting people, thinking about the film and learning my lines. I have to put in extra effort in memorising, as after a certain age, memory thodi weak ho jaati hai (smiles). I remember those days when I would read my dialogues once and give the shot. I was so quick. Even for my dance performances, I would rehearse just once and give the take. There were no rehearsals. Aaj kal toh 10-10 dinn ek gaane ki rehearsal karte hain. I am more excited today as an artiste than I was in those days. I am looking forward to each phase. I want to travel as well.
The last two years have been tough for you, from Rishi Kapoor being diagnosed with cancer and his passing. Has this phase changed you as a person?

It takes time to gain the confidence back. Maybe, I am not 100 per cent there, but I am getting there. It has changed me as a person. I have become stronger. I was always strong with my husband, but today, I have to look after my house, finances, etc. Earlier, my husband looked after these aspects, but today I have become the man of the house. So, I have become stronger than I was when my husband was alive, as I was dependent on him. Today I am looking after everything.

There is a lot of buzz around Ranbir and Alia's wedding…

I hope ho jaaye. Mujhe kuchh pata nahi hai. I would like to celebrate and say it out loud, but kids today are different. Both of them are private people. Kab kar lenge pata nahi, but hogi zaroor and I wish jaldi ho jaaye because I love them both. Alia is such a lovely girl. I just adore her. She is a beautiful person. Ranbir and Alia are made for each other. They are quite similar. Ranbir is pure-hearted and uncorrupted. He sees things in a positive way. There is no jealousy with anybody or negativity. I see the same quality in her. Both are confident and don't have bad things to say about anybody — even if somebody's movie is doing well or is better looking. They complement each other.

You have maintained that your mother-in-law, Krishna Raj Kapoor, always looked out for you and treated you more like a daughter. Do you share the same equation with Alia?

I hope I do in the future… when they get married. My relationship with my mother-in-law was outstanding. She loved me more than her son. We were friends. We spoke about everything under the sun, and I would complain about my husband to her (laughs!). We were very open. I hope I have the same equation with Alia because she is also outstanding and amazing.
Source