Jatin: Satish was planning a film for me – Excl
Jatin Goswami made his dream of becoming an actor come true with his will and dedication. After his performance in Babumoshai Bandookbaaz, Jatin went on to become a part of successful projects like The Great Indian Murder, Delhi Crime 2 and recently released Gulmohar.
In an exclusive conversation with ETimes, Jatin spoke about his journey as an outsider, his equation with Manoj Bajpayee, his last conversation with Satish Kaushik and a message to Nawazuddin Siddiqui.
Gulmohar is loved by the audience. How does it make you feel?
It is a very special feeling for the kind of love and appreciation we are getting for Gulmohar. As artists, we want the audience to connect with the story and I'm happy that people could relate to it. We were all completely immersed into our respective characters and by the end of the shoot, we became like one big family. A strong bond was formed between all of us right from the first day of shoot.
How was your equation with Manoj Bajpayee on the sets?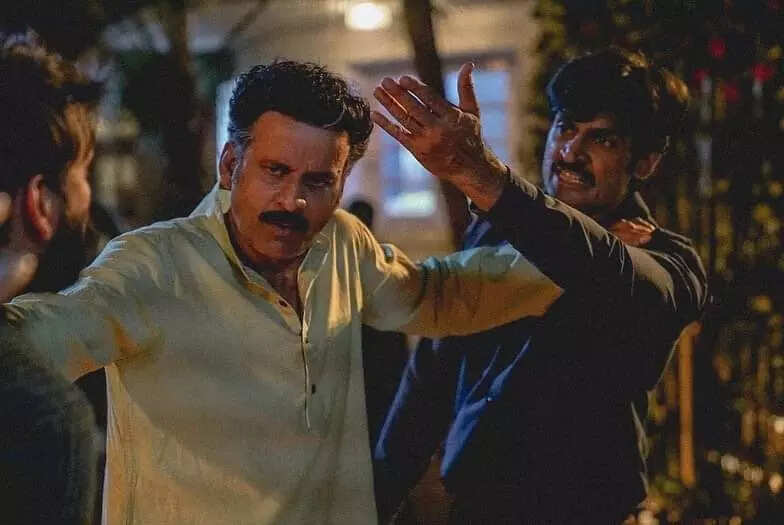 We talked about a lot of things. He had seen my previous work in The Great Indian Murder, which was directed by Tigmanshu Dhulia. He gave me his feedback that he really enjoyed my work. I have grown up watching his films and idolised him as an actor. So working with him, sitting and chatting about my work and his personal experiences has been a big thing for me because I look up to him. I got my personal masterclass on acting from him. It was a dream come true.
You have been a part of a variety of projects like Babumoshai Bandookbaaz, The Great Indian Murder, Delhi Crime 2, and now Gulmohar. Does it make you feel that you have finally arrived?
I don't know if I have arrived or not. And I don't even know how to make it happen. I have been a total outsider. I belong to Haryana, brought up in Delhi and I come from a typical middle-class household. Neither did I know anyone from the industry nor anyone from Mumbai. When I came to the city in 2016 to follow my dreams, I didn't even know where I would live. So when I started doing theatre, I got a feeling that finally my dream of becoming an actor is coming true. So it was a very big thing for me to even get there. And acting in movies was like winning an Olympic gold medal for me. My parents were feeling very proud when I finally started earning money, because they were not really sure whether I can make a profession out of acting.
You have worked with Satish Kaushik in the upcoming film Patna Shukla. Would you like to recall your last interaction with him?
My last conversation with Satish ji happened just 2-3 days before he passed away. He had also wished me on Holi and told me that he wanted to meet me. I had an amazing relationship with him. He was planning to produce and direct a film for me. He was a gem of a person. I really used to enjoy chatting with him. He used to talk about the time when he came to Mumbai, his childhood memories and different experiences in life. He also hails from Karol Bagh, Delhi, so I used to connect with him a lot. He used to guide me about how to perform certain scenes on camera. I am deeply saddened by his loss.
You have mostly played negative roles on the screen. Does that excite you more?
I kept doing roles that came to me, be it negative or positive. Due to the emergence of OTT, the fear of getting typecast in certain roles is no more. People are not afraid of taking risks and experimenting with different things. It's a good time for all actors now. I am open to all kinds of stories and roles.
Being an outsider, have you made any friends in the industry?
Yes. I have. But they are mostly busy with their work so we don't meet so often. If I have to count then Rajkummar Rao, Divyendu Sharma, Jaideep Ahlawat, Vijay Varma, Jaswant Singh Dalal, Sharib Hashmi and Pratik Gandhi would certainly make it to my friend list. I won't even have to ask them for help if I ever face any problems. I am certain that they will be by my side in a crisis.
You got your big break with Babumoshai Bandookbaaz. Tell us about your equation with Nawazuddin Siddiqui.
People really liked that film and I am still getting messages for my performance. It feels great when the audience remembers and appreciates you. It was a fun and entertaining film. Sometimes people recognise me from this movie when I am sitting at a restaurant or a public place. This was my first full-fledged work with Nawaz.
I have a good relationship with Nawaz bhai. If you are sitting with him in a closed room and you both are totally involved, then you will certainly come out learning some things or the other. He is very down to earth. He is a collaborative person. I was a newcomer but still he gave me immense respect and worked alongside me. I felt very privileged to work with such a big actor. He has encouraged me a lot every time I have met him.
Nawaz's family issues have become public. What would you like to say to him?
As actors, we have to be very sensitive and vulnerable. It's the nature of our job. We are all emotional athletes. We have to be very practical in the outside world which is completely different from the reel world. We should give him some time to deal with his problems. I don't feel good when such personal issues come out in the public domain. It should not happen this way. I am rooting for Nawaz bhai. I am sure whatever he has been going through in his personal life, he will come out of it with grace, dignity and respect.
Source